Canadian Macedonian Place kicks off 25th Anniversary Celebration with Lecture
By Risto Stefov
On Saturday June 12th 2004, Canadian Macedonian Place and the Canadian Macedonian Historical Society put on a free lecture presentation featuring Olga Lexovska Naumoff and Sotir Nitchov. Olga is the author of the book: "MY NAME IS SOTIR: A Memoir of a Child Evacuee" and Sotir is the child evacuee upon whose life story the book is based. The lecture was the kick off event of a two day celebration commemorating the 25th anniversary of Canadian Macedonian Place in Toronto.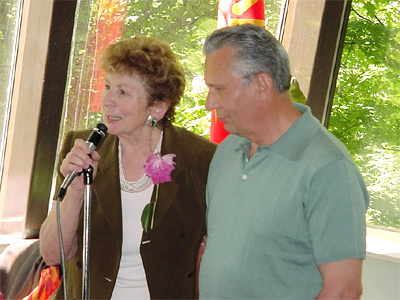 (L-R) Olga Naumoff and Sotir Nitchov
The theme of the presentation was based on the memoirs of Sotir Nitchov a child evacuee from the village Trsie, Lerinsko Aegean Macedonia.
As one of the thirty thousand Macedonian children, ages two to fourteen, Sotir became one of the Detsa Begaltsi (Children Evacuees) evacuated by the Partisans to countries that opened their doors to them, where the sounds of war would no longer be heard. The parents of these children placed their trust in the Partisans, rather than the Greeks. They relied on prayer and destiny to guide and protect the children through their tumultuous childhood years, separated from the comfort of their love.
Olga is not only an excellent writer but also an eloquent and masterful presenter. She had her audience in awe and in tears as she told stories and recounted her experience with Sotir's interesting but difficult life.
Olga Lexovska Naumoff was born and raised in Detroit, Michigan. Her father Anastas was born in Drenoveni and her mother Tsila was born in Dmbeni, Kostursko Okolie. Olga has a brother, Dr. Norman Naumoff, a retired US Navy radiologist and a sister, Jo Ann Boyana Naumoff, a Registered Dietician (R. D.) and nutritionist
Olga was educated in the US and received her MA from Wayne State University. She retired as a candidate for the position of Region Assistant Superintendent of the Detroit Public Schools. During her career she was the Principal of a high school, taught English as a second language, worked as a translator and a travel agent. She is a woman of many talents.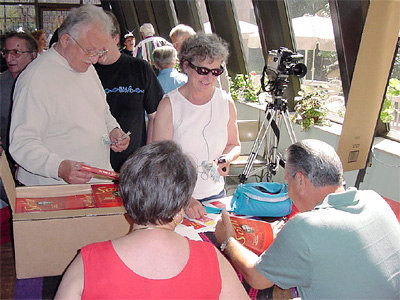 (Back-Front) Sotir Nitchov and his wife Tina signing copies
of his book for Pete Kondoff and Olga Sondolowich
Olga now spends her spare time helping our community preserve its historic past and the sacrifices and contributions made by the early generations of Macedonian immigrants to make the American public aware of the problems facing Aegean Macedonians. She also goes on tour promoting her second book "MY NAME IS SOTIR: A Memoir of a Child Evacuee". Her first book was "ABOUT THE SPLENDID MACEDONIANS", published a few years back.
Sotir Nitchov, the hero of the story, was born in Trsie. Like many Macedonian children his age he lived his young life through wars and turbulent times. By his own account he is an ordinary man, but his life and commitments to all things Macedonian have been nothing but extraordinary.
Sotir has a lovely wife Tina, who is his pillar of strength, a son and daughter. In describing Sotir one has to admit that he is an inveterate letter writer and often puts his money and efforts where his mouth is. In the past Sotir has contacted people in high places and has even had a conversation with President Clinton of the United States regarding the recognition of the Republic of Macedonia. He is multi-lingual and speaks English, Macedonian, Greek and Bulgarian. His real passion, however, is to bring awareness to the world about the plight of the Macedonian Detsa Begaltsi and, through the book of memoirs, make his experience known.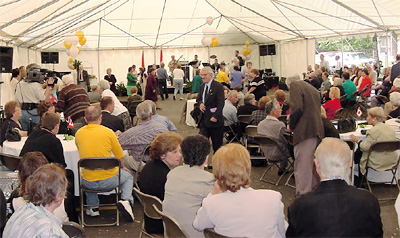 (L-R) One of the early events celebrating the
25th Anniversary of Canadian Macedonian Place
"My name is Sotir" is a must-read, true story. It is one that will evoke happy, carefree memories of the child in all of us. It will also make you cry in despair and make you thankful for your own life.
For more information on the book visit:
My Name Is Sotir: A Memoir of a Child Evacuee
by Olga Lexovska Naumoff
Splendid Associates, Dearborne
ISBN 0-941983-03-X (c) 2003
Soft cover, 355 pages
Price CAD$25.50, US$18.75, Delivery Costs: Add $4.00 per book
Or send a cheque or money order to:
Olga Naumoff
4815 Terness Street
Dearborne MI 48126