"Let me Tell you a Story" -- A Symposium of Immigration to Canada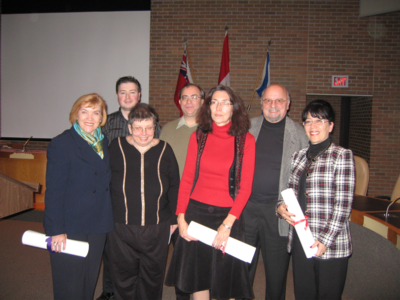 Symposium participants (left - right) Niki Lazarova, John Thomas (CMHS President), Dr.Lillian Petroff, Danny Maleganeas, Joanne Lynes, Prof. Harry Herman (Men in White Aprons author), and Dr. Katerina Belazelkoska
We have a diverse community because of the different time periods in which immigrants landed in Canada from various parts of Macedonia. For instance those that arrived in the late 19th and early 20th Century were mostly from the Aegean area of Macedonia. Then wars and ethnic cleansings forced people to emigrate throughout the 20th Century. We have immigrants arriving from the Republic of Macedonia right up to the present day. It is an important part of Canadian Macedonian Historical Society's mandate to explore and record and make known these periods of immigration. Lillian Petroff's book Sojourners and Settlers - The Macedonian Community in Toronto to 1940 (1995) recorded much of this, but this Symposium made it more "up close and personal" with five speakers that represented three different periods of immigration by Macedonians to Canada.
The Canadian Macedonian Historical Society held its symposium on immigration stories, entitled, "Let Me Tell You a Story…" on Sunday, November 25, 2007.
The five participants were initially interviewed prior to the event. Each presented their own material and the audience had an opportunity to ask questions after each story was told. Three distinct periods were identified prior to the event:
Turn of the 20th Century to 1945
1945 – 1990
1990 – present day
The first two participants were Joanne Lynes and Katherine Kizoff Gill. Joanne's family settled in Welland, which was a nice change as most of us think that we all came to Toronto, or maybe Montreal. Many Macedonians settled in small towns at first and some of them stayed for many years. Macedonians could be found owning or working in grocery stores, restaurants, playing music, etc. Katherine's family's immigration dates back to 1905 when her paternal grandfather immigrated from Gabresh, Kostursko. He came to Canada via Cuba and eventually settled in Toronto.
Danny Maleganeas was the first participant who represented the period l945-1990. Both of his parents arrived in Canada in the 1950s and they soon established themselves in Toronto as restauranteurs. Following his presentation, Niki Lazarova shared her story. After being a Begaltsi refugee, a chain of life events brought her to many to countries before finally arriving in Canada in the 1970s.
The final period of immigration was represented by Dr. Katerina Belazelkoska. Safety concerns prompted the inspiration to leave the Republic of Macedonia in 2001. She completed her graduate studies in the United States prior to coming to Canada.
Dr. Lillian Petroff was the perfect moderator for the Historical Society's symposium. Lillian was introduced by John Thomas, the Co-President of CMHS and one of the main organizers of the event. She described the pre-l945 immigration period along with bits of oral testimony which she had gleaned from her many interviews for her book. For example, she related an anecdote about the "Restaurant Men", which was quite apropos as we were including the launch of the reprint of MEN IN WHITE APRONS by Harry Herman in this event. Lillian noted that one Macedonian said of his boss who was Greek:
"If they know you're a Macedonian he kill you. He won't let you touch nothing. Won't let you sit down or have a cigarette or a coke. You have to pay for it. Pushing you, pushing you."
She went on to speak about the different eras in which Macedonians immigrated to Canada.
At intermission folks munched on cookies and sipped Macedonian tea while looking over the books that were available for sale, including Men In White Aprons by Harry Herman. They had an opportunity to have the author sign their copies.
Each of the presenters was unique with their stories and personal tales. It is important that we record these stories for generations to come. Sometimes photos are thrown out, and costumes are not valued by succeeding generations. The Society is a place where they can reside with dignity and respect.
It is fantastic that the Society was able to document the stories that made this event possible. We would like to repeat the event again in the future, with different stories and other perspectives.

We belong to a community of immigrants, and we stand on the shoulders of those that came before us.

Thanks to Alex Nitsis, who spearheaded the project, the Society became the publisher of MEN IN WHITE APRONS by Harry Herman and had the book reprinted. This reprint included some new material along with added photos of early Macedonian restaurants. Because of the major sponsorship of the Macedonian Canadian Restaurant Coop, along with a few others, we were able to complete this project. We are very grateful for their help and assistance, as this text documents an important period in Canadian Macedonian immigration and a certain segment of our early immigrants that were involved in the restaurant businesses.
© Virginia Andreoff-Evans