Private Screening of "DUST", with Milcho Manchevski
A special private screening of the movie, "DUST" was presented March 29, 2003, to a sold out audience at the Town Hall Theatre, University of Toronto.
The film's director, Milcho Manchevski, was gracious enough to fly in from New York and share his experiences with the audience.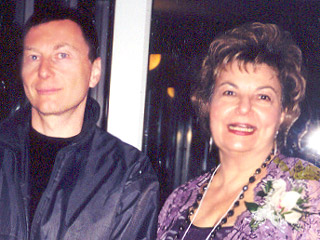 (L-R) Milcho Manchevski and Virginia Evans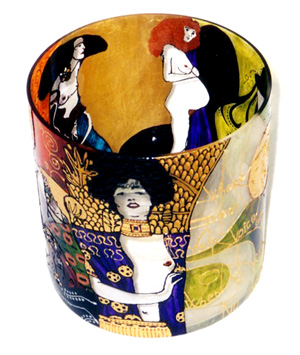 Vase Given to Milcho Manchevski
The vase above was given to Milcho by the Historical Society in appreciation for his tireless efforts in promoting Macedonian history and culture. It was designed by Darinka Danevska, an artist who is proficient in many forms of art including glass painting, murals, icons, graphic design, mosaic and illustrations. Born in Macedonia in 1975, she has been steeped in art from the moment of birth. Darinka had numerous exhibitions in Skopje, as well as an exhibition at the Royal Ontario Museum in Toronto and Organgeville. Check out her web site at www.darinka.com.
She was selected to make a presentation piece for Milcho Manchevski on the occasion of his screening of DUST in Toronto for the Historical Society. She also included the words from the film: "Where does the voice go when you are no more?" on the piece, along with depictions of women, who are an integral part of Manchevski's film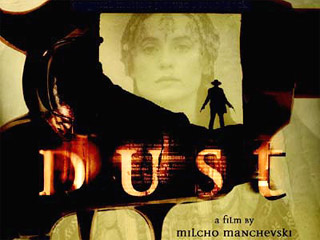 Promotional Poster for "Dust"