Em Baba, Em Nevesta
Lecture by Dr. Kathy Dimitrievski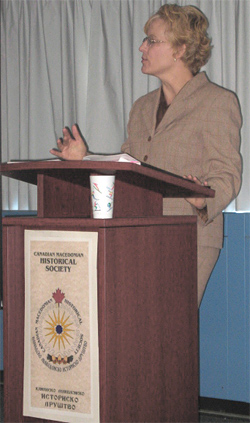 Dr. Kathy Dimitrievski
The Canadian Macedonian Historical Society kicked off its lecture series on Sunday October 16 by presenting an entertaining and informative lecture by Dr. Kathy Dimitrievski entitled "Macedonia...Em Baba, Em Nevesta" which explored the history and rich culture of Macedonia told through its folk songs, from ancient civilization to modern times.
Dr. Dimitrievski is an American whose husband Josif is of Macedonian descent. Although she herself is not Macedonian she fell in love with both the melodies and lyrics of Macedonian music while attending Macedonian dances with her husband. Her love of the music resulted in her researching and writing her doctoral dissertation on the oral history of Macedonians through their folk songs over many generations.
Her doctoral research was published in 2001 as the book Macedonia...Em Baba,Em Nevesta. The book chronicles Macedonian history through times of struggle, sorrow and joy through the many songs. Dr. Dimitrievski's research includes oral histories from Macedonia, Pirin, Egej, Mala Prespa, the United States and Canada as well as Internet testimonies and surveys. Of special interest are interviews with the now deceased Aleksander Sarievski, Vaska Ilieva and Petranka Kostandinova along with an interview with Violeta Tomovska.
Since Macedonians were not formally educated until the mid- 20th century, much of their history went unrecorded except in oral form through stories and music passed down from one generation to the next. Dr. Dimitrievski found that folk songs (izvorni) are revered within the Macedonian community and served as useful educational tools in passing down culture and historical memory.
Following the lecture guests had the opportunity to drink Macedonian tea (planinski chai), ask questions of Dr. Dimitrievski and watch tapes of some her interviewees. The tapes were particularly fascinating as we were able to hear young and old alike sing some of the folk songs she referred to in her lecture.
If you are interested in other oral history accounts, the Canadian Macedonian Historical Society library has over 50 tapes with hundreds of hours of videotaped interviews from various community members about their lives and experiences. The library is open every Sunday from 1:00 p.m. to 3:00 p.m.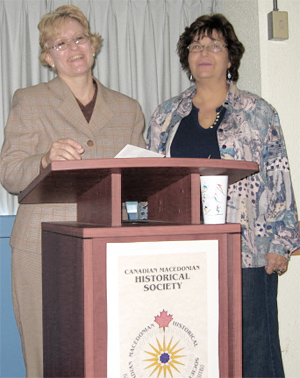 Dr. Kathy Dimitrievski with Virginia Evans