Opening of the CMHS Resource Centre
The Library is open upon request. Call 416-755-3117 or e-mail at info@macedonianhistory.ca
Location: lower level of Canadian Macedonian Place, 850 O'Connor Drive, Toronto - click here to view directions map.
For Easy Access to the Library, Enter via the South Side
of Canadian Macedonian Place and Ring the Buzzer at the Door
(click on pictures below)
For further location information please contact Zlatka Cokov at the Canadian Macedonian Place: Tel: 416-755-9231
For questions about the library contact the CMHS via e-mail at: info@MacedonianHistory.ca
On Saturday, April 23, 2005 the Canadian Macedonian Historical Society hosted the official re-opening of the reference library to its members. Approximately 60 people attended the event and were given a sneak preview of the impressive collection of books, videos, DVD's, journals, photographs and artifacts pertaining to Macedonian history.
Preparing the library for this opening was a monumental undertaking. From setting up the database, cataloguing the over 2,000 items and preparing the library, volunteers from the historical society, headed by president Alex Nitsis, worked diligently for almost a year to make this dream a reality.
A listing of the available books is accessible through this website by clicking on the library link. The name of a particular author or book title may be searched or the entire collection of catalogued items may be perused.
The library, which is situated in the basement of Canadian Macedonian Place will be open to members of the community in the near future on Sunday afternoons from 1:00 p.m. to 3:00 p.m. As the library is strictly a reference facility with many rare materials of archival quality, books will not be allowed to be signed out.
For research purposes our library boasts four computers with Internet access. You will be able to research information, prepare documents and print them out on our laser printer. We also have a photocopier, microfiche and VCR.
A separate viewing room has been set up with a television and VCR where it is possible to watch one of the many video interviews chronicling the oral history of many of our community members. Future plans include setting up a "museum" room adjacent to the library to display the many costumes, rugs, photographs and other artifacts and extending the library hours.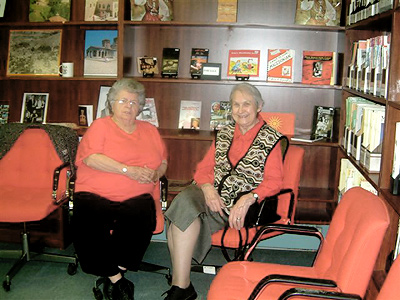 Mary Kondoff and Zorka Basil