Canadian Macedonian Historical Society - Annual General Meeting
The Canadian Macedonian Historical Society held its Annual General Membership Meeting on Friday, May 2, 2003 at the Canadian Macedonian Place in Toronto.
The president, Alexander Nitsis, welcomed and thanked current and new members for attending. Before he gave his report for the past season he made a special presentation to two of the societies long-time members,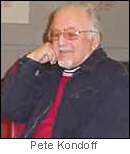 Pete & Mary Kondoff. Mr. & Mrs. Kondoff were honoured for their dedication and commitment to maintaining and promoting the accurate presentation of Macedonian History. Pete James Kondoff is the founding father and the society's first president. He was the catalyst that started it all and with the help of Mary Kondoff, they were the glue that held the society together during some of the turbulent years.
Some of Pete's accomplishments include:
| | |
| --- | --- |
| * | Working as a chief engineer |
| * | Executive Secretary of the United Macedonians (1960-1970) |
| * | Mary & Pete with Anton Pavlov & Mile Niklovski started broadcasting on CHIN the Makedonski Glas radio program |
| * | Founding members & one of the first board of directors of the St. Clements of Ohrid Church (1963-1988) |
| * | A veteran and organizer of the Druzestvo Na Borcite Od Makedonia vo Canada |
| * | Past director of the Canadian Macedonian Place Senior Citizens Association |
| * | Past teacher professional engineer & chairman of the Ontario Drafting teachers & president of the Technical Teachers of the Ontario Educational Association. |
| * | Listed in Who's Who in Ontario |
| * | And many, many more qualifications & honours |
Pete & Mary Kondoff were made Honorary Life-Time Members and presented with silver lapel pins emblazoned with the Macedonian Lion. The pins were made by Richard Dubiel, husband to Virginia Dubiel one of our newly elected board of directors.
Pete agreed to continue to support the society with his invaluable wisdom and knowledge in an advisory role.
The meeting then continued with the presentation of the presidents report outlining the past years accomplishments and successes. This was followed by John Thomas's treasurer's report and the financial statement for the year 2002. All in all the society was once again in the black. Nomination were then made by the board for new directors with two members being nominated from the floor. All nominations were accepted and passed.
The evening concluded with food drink and conversation. Chestito!