Metodija Andonov Cento
Yugoslave Communism & the Macedonian Question of 1946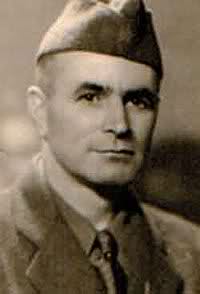 WHO WAS METODIJA ANDONOV-ČENTO AND WHY WAS HE IMPORTANT?
The Canadian Macedonian Historical Society presented in April, 2016 Professor Andrew Rossos' and the paper he gave at the Conference in Lerin, Aegean Macedonia. This was organized by the Canadian and Australian Macedonian Human Rights organization in 2015. Čento (it was a nickname which he eventually accepted) was virtually unknown for many years in the Republic, so it was interesting for our members to learn more about this man and our history.
Dr. Rossos spoke about him and his involvement in the forming of Yugoslavia when they brought five regions together to form Yugoslavia. Čento fought fascism during WWII as a partisan, and went on to fight for the rights of Macedonia and its complete independence. As a Socialist and a Macedonian Nationalist, he did not agree with the all the policies of Belgrade or even the government in Macedonia, at the time. He was present at the meetings when they discussed the terms for the agreement between the five regions. He had approved the agreement which included a condition that if Macedonia wanted to withdraw at some point in the future, they could do so with no penalty. When the accord was finalized, this important factor was not included.
Macedonian students were unaware of this important patriot until after the independence of Macedonia in 1991. They had no knowledge of his life and times, his influence and about his plan for an independent Macedonia.
Čento died in 1957 after spending a number of years in prison where he was allegedly tortured. His involvement as a Partisan against the Fascist occupiers, and an activist after the war, is now being celebrated in Macedonia, as evidenced by the prominent statue in the middle of Skopje.
After Professor Rossos presented his paper, we had a lively Q & A, where we learned even more as Rossos spoke anecdotally about his research. For instance, Rossos actually learned about this man while researching other information in Skopje in the 1970's. When he asked a colleague about him, he was quickly told that they didn't "talk about this man". That piqued his curiosity even more and Rossos investigated even further.
Some in the audience declared that they enjoyed the Q & A as much as the actual lecture and were very pleased to have Professor Rossos speak to the Society. Tony Markovski thanked him for being part of our lecture series.
Afterwards, the audience mingled and had a chance to speak to Dr. Rossos, have some refreshments (donated by various members of the Board) and some Macedonian Tea (brought from Bitola!).
Virginia Andreoff
Monument of Metodija Andonov Cento on Macedonia Square in Skopje