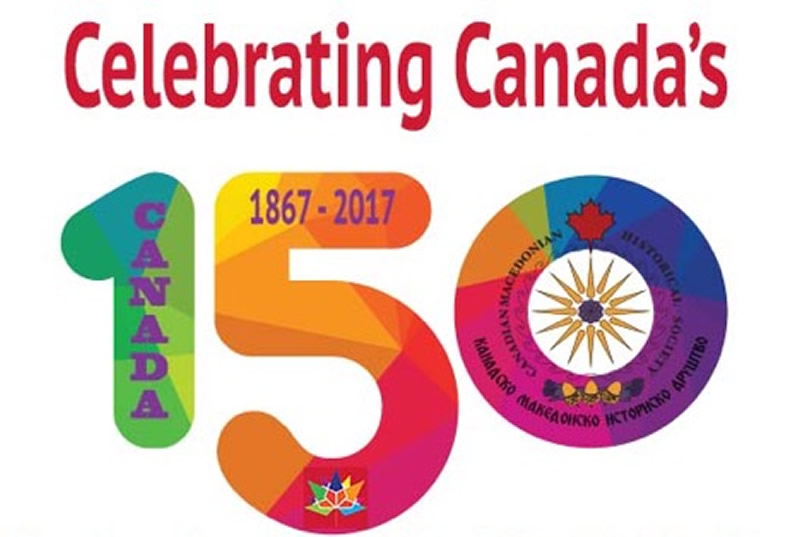 On Saturday August 26, 2017, the Canadian Macedonian Historical Society celebrated Canada's 150 anniversary (sesquicentennial) at Pier 21 in Halifax Nova Scotia with the unveiling of a plaque commemorating over 125 years of Macedonian immigration to Canada. The plaque will be mounted at the Canadian Museum of Immigration at Pier 21 on the Wadih M. Fares Wall of Tribute. The inscription on the plaque reads; Honouring Canadian citizens of Macedonian descent who have made Canada their home from the late 1800's to the present coming from the Aegean, Pirin, Vardar, and Mala Prespa regions of Macedonia.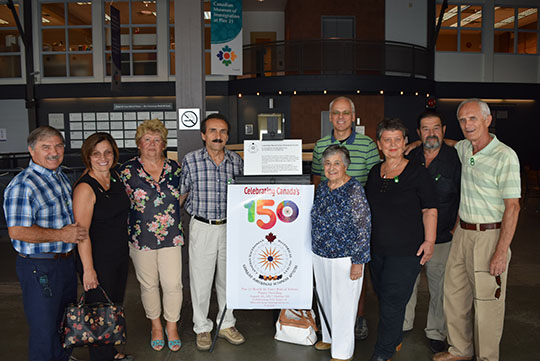 The following is an excerpt from the speech of Tony Markovski at the plaque unveiling.
Today we are gathered at Pier 21, the Canadian Museum of Immigration to celebrate the official unveiling of the Canadian Macedonian Historical Society plaque, which will be mounted on the Wadih M. Fares Wall of Tribute honouring all Macedonians who came to Canada from all the regions of Macedonia starting from the late 1800s to the present. They came amongst other nationalities to look for a better life and opportunity in a new country. This year we celebrate 150 years of Confederation as a country called Canada, but we should also not forget the people of the First Nations who called this land home thousands of years before us. This plaque will remind us that Macedonians also contributed to the building of this great country.
The first Macedonians came to Canada due to civil unrest, wars and oppression. Today most are economic immigrants, with a minority coming from regions that still discriminate those who identify as ethnic Macedonians. The very first documented migrants came after 1878 when at the Congress of Berlin, Macedonia was given back to the Ottoman state after it was liberated by Russia in the Russian-Ottoman War of 1876-77. Between 1878 and 1903 most of those who migrated to Canada were here as sojourners (migrant workers), after the failed Macedonian uprising of 1903 called "ILINDEN," Macedonians immigrated to Canada en masse due to the Ottoman oppression.
Following the First and Second Balkan Wars (1912- 1913) fought between the neighbouring Christian countries and the Ottoman State, more Macedonians migrated to Canada and the USA. The discrimination and oppression continued but this time it was perpetrated by the occupying Christian countries which did not recognize the ethnic identity of Macedonians and Macedonia as a country. Instead they occupied the region taking each a piece and began a process of assimilation. This was followed by four years of further turmoil and despair with WWI (1914-1918). Macedonia became a battleground between the Triple Alliance and the Triple Entente. Much has been written about the Western Front and Canada's contribution, but little is known about the Eastern Front where Macedonia was the battle ground.
This was then followed by the Greco-Turkish War (1919-1922) which resulted in further oppression. The Treaty of Lausanne of 1923 impacted Aegean Macedonia with an influx of over 1 million Christian refugees into the region and the expulsion of over 300,000 Christian Macedonians into Bulgaria. The forced conversion of geographic toponyms and last names in the late 1920s, and the economic crisis of the depression in the 1930s, added to further pushing Macedonians away from the Balkan region.
Then came WW2 (1939-1945), which prevented migration from all regions of Macedonia. This segued into the Greek Civil War of 1946-1949 fought mostly in Aegean Macedonia. Thousands of Macedonians were forced to move including 28,000 refugee children (Decata Begalci) of which many live in Canada today. Between 1950 – 1980 tens of thousands of Macedonians immigrated to Canada with the majority coming from Aegean Macedonia in Greece.
Today Macedonians are still migrating to Canada but for economic reasons. They are still being discriminated in Bulgaria, Greece, and Albania. Cultural assimilation (genocide) is still practiced mostly in Bulgaria and in the future, we may see more ethnic Macedonians arriving from this country. Greece officially does not recognize ethnic Macedonians as a distinct people but is currently grudgingly tolerating the celebration of cultural festivities.
Thankfully in Canada, as a Landed Immigrant of Macedonian descent, I am not discriminated because of my ethnicity. I am proud and lucky to call Canada my home, the land of immigrants. We came to a country where we respect our differences and live together in harmony. As a migrant, I know how it feels to be discriminated and oppressed. I also know how it feels to have someone take away your land and try to assimilate you into being something else. Therefore, we too must respect and acknowledge those who came before us, the Native People of Canada. We are grateful to Canada for accepting all Macedonians and opening her arms to our people, and we also recognize and thank People of the First Nations.At this time, I would like to thank Ms. Maria Almeida, Ms. Fiona Valverde and the staff at the Canadian Museum of Immigration. Without their assistance in organizing this special occasion and giving us the opportunity to honour all Macedonians who came to Canada, especially those who arrived at this continent through Pier 21.
Thank You Canada!
Thank You Pier 21!
Thank You Canadian Macedonians! Наздравје (Nazdravye)! Tony Markovski, President – Canadian Macedonian Historical
Society As a not-for-profit charitable organization, the Canadian Macedonian Historical Society provides all Canadians, especially those of Macedonian descent, with a true perspective of Canadian Macedonian history and culture. Established in 1991, the Society has been the nerve centre of academic and social activities for over 25 years.