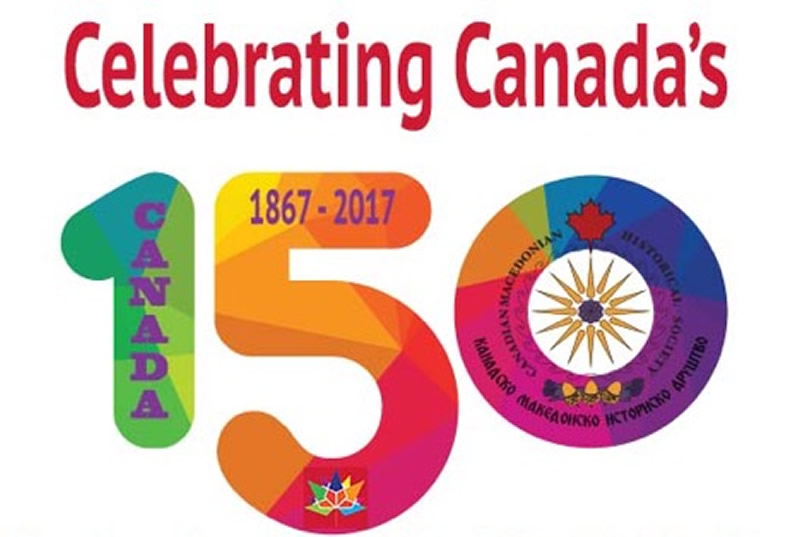 The lecture started with the singing of O' Canada by Brooke Pastuch. All were amazed at the energy and excitement brought by this young lady to our event. Odie Belchevski (Lecture Committee Co-Director) introduced Tony Markovski (President of CMHS) who spoke about the society and our mission. Odie Belchevski then introduced Edith George, as a passionate advocate of local history and conservation. Her presentation began with a journey from Macedonia to Canada.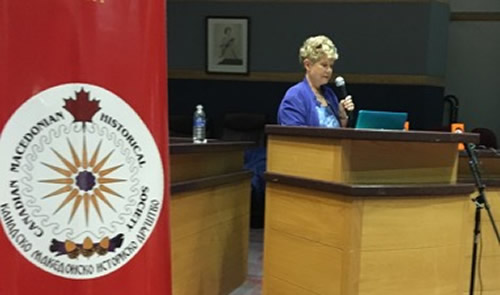 She talked about her personal connection as she told us about her Macedonian roots with an illustration about her grandfather who came from a village called Zhelevo in Aegean Macedonia. According to Edith, Zhelevo's oral history had the village roots beginning around a tree which became the centre of the village over 500 years ago. She then brought us to Canada and her neighbourhoods great red oak and told it's 350 year old story. The historical significance of this great oak was tied into the theme of the lecture being Canada's 150th birthday. The location of this tree and another tree in the west end of Toronto are located along in immediate vicinity of the historic Toronto Carrying Place Trail of the First Nations which eventually was used by the French and later the British. This route provided quicker access from Lake Ontario (mouth of the Humber River) to Lake Simcoe. The story began with Matthew Griffith who owned the land where the two red oaks are located but his older brother Thomas Griffith joined the Loyalists in the Mackenzie Rebellion of 1837. From 1933 to 1950, Percy and Gertrude Gardiner owned the property and their estate was called "Rivermede." Percy Gardiner's two older brothers became doctors and their last practices were found in Toronto. One of his brothers, Dr. George Gardiner's practice was in the Junction area and he was the house doctor of Macedonian families such as the Bundas and Georges of Mulock Street. Percy and his wife Gertrude, were philanthropic volunteers and their son, daughter, son-in-law and daughter-in-law all became recipients of the Order of Canada. This is four in total. Their names were George & Helen Gardiner and Helen & Paul Phelan.
In 1950 Jethro Crang bought the property from Percy and Gertrude Gardiner. His family came from England in the mid 1850s and they developed the Oakwood and St. Clair area. Oakwood Stadium, Oakwood Theatre, Oakwood Pool and they also built houses as well. Edith's Grandfather, Elia George for a few years, rented a unit from James Goulding Crang called, "Lou's Grill" where he sold hamburgers, hot dogs and soda pop to the swimmers at Oakwood pool. The intertwining of local history with Macedonian immigration captivated the audience as Edith shared her family history with the story of her grandfather who first came to Canada as a sojourner. He was able to start up several businesses and was also instrumental in volunteering and donating money to help the build of the first independent Macedonian church in Canada called, St. Clement of Ohrid Macedonian Orthodox Cathedral. He spent many days going from his business to the church assisting with the construction. He personally paid for and donated, the cross that sits atop the church. The picture below was taken in 1964 showing Elia George ready to hoist the cross atop the church dome.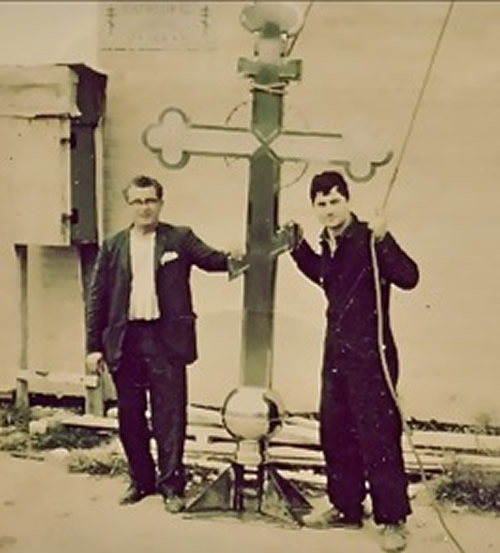 Just as Edith had us captivated with her family history, she segued natural history by connecting an over 900 year old Platanus Orientalis tree in Ohrid Macedonia with the 400 year old great oak in her Toronto neighbourhood. She outlined the process required in designating a tree as a "Heritage Tree." The non-profit the Ontario Urban Forest Council's Heritage Tree Toolkit takes one through the process required in determining whether a tree is worthy of heritage status. Her many years of work as former Director of the Board of the Weston Historical Society and as an advisor with the Ontario Urban Forest Council, as well as an online columnist for Metroland Media Group, gives individuals and groups tools for protecting our natural roots becoming a passionate advocate in preserving our natural history.
Since Toronto's amalgamation in 1998, sadly no tree has been designated heritage under the Ontario Heritage Act. Presently only 12 single trees in our entire province have been honoured with OHA designation.
Edith George concluded her presentation by reciting an anonymous Portuguese poem on preserving our natural history.
To the person who passes through this place
You that pass and raise your arm to me
before you hurt me, look at me well.
I am the heat of your home in the cold winter nights.
I am the friendly shade that you find
when walking under the August sun
And my fruits are appetizing freshness
That satisfy your thirst on the way.
I am the friendly beam of your house, the board of your table
the bed in which you rest and the wood of your boat.
I am handle of your hoe, the door of your dwelling
the wood of your cradle and of your own coffin.
I am the bread of goodness and the flower of beauty.
You that pass, look at me well and do no harm.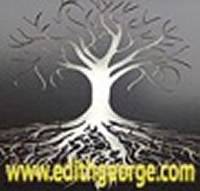 At the end, Tiffany Faith Farrugia read a poem called "Destination, Toronto" written by her grandmother Patsy Sider over 55 years ago upon her arrival as an immigrant.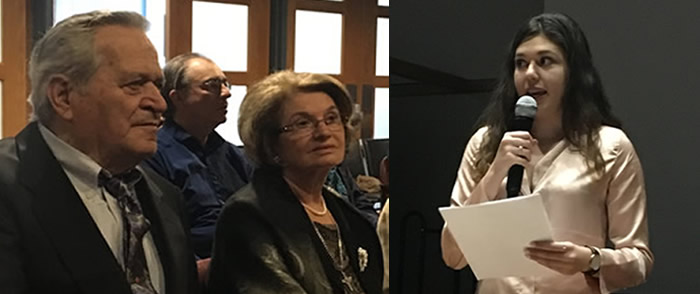 DESTINATION, TORONTO by Patsy Sider
I close my eyes
Memories are overflowing
Like bubbles of champagne
Macedonia is my birthplace

I see the yard of my home and the vine canopies
I reach for the hanging grapes
The red and white sweet grapes are melting in my mouth
I admire the majestic mountains and the voices of the singing birds

One day my father says to us
"We will leave this place
We will go to Canada, which is a dream place"
In 1962, we depart for Canada
The four of us, my little sister, my mama and papa

From Piraeus we are aboard on a luxurious boat from Holland
It is called Homerique
Thirteen days in the ship
The eye sees only sky and sea
Our cabin is located in the lowest level of the boat
The economy class
From the window of our cabin I am able to see
The dark color, the other side of the sea

The French Cuisine
Smells heavenly
This is a different cooking
It is much tastier than the homeland cooking.

At the dinning room the waiter is dressed
In white shirt, black bow tie, white jacket
Black pants and white gloves
He is handsome, polite, kind
And he teaches us in which hand to hold the fork and the knife

This is a luxurious way of living
My background is just a tiny city
I never been on a cruise before
This boat will take me faraway from my home

At Pier 21 in Halifax, a Representative
Of the travel Agency
Welcome us with a written sign and the destination
And our minds are ready for imagination

With few cents we purchase
A loaf of French bread
The French bread is so yummy
We cannot fulfill our tummies

An hour later we are aboard on a commercial train
It twists as a snake, for long, long hours
It leaves behind a cloud of black smoke
A beautiful panorama, of a snow-white blanket is spread
Our stomachs have desire from French bread

In Montreal we change to another train
And we notice the freezing rain
This locomotive is clean
I am eager to see everything

From Montreal to Toronto is another thing
I could not see a thing
I feel exhausted and I sleep
Into a deep sleep and I sleep

The next morning with the dawn
I yawn

This is Toronto, the downtown station
And time for realization

Tall buildings, bright lights
At nights

Toronto is a special City, an exception
I have a good impression

Toronto is the city of opportunity
Toronto is the land of prosperity
Toronto is a sweet city
In Toronto I raise family
Toronto is my New World

In Toronto I have gracefully grown
Toronto sits up high
I love the First Day of July
Destination, Toronto is like a dream come true.


We then had a Q & A session with much interest in the process of preserving our natural history. By protecting our natural history, we can preserve our oral (human) history.
Happy Birthday Canada!
Честито Канада!