Up-coming Events for 2017
Celebrating Canada's 150th Birthday with over 100 years of Macedonian Immigration
Annual General Membership meeting: Sunday April 23rd, 2017 @ the CMP

Lecture: Celebrating Canada's 150th - A Canadian - Macedonian Heritage Story with Edith George May 7, 2017 at the East York Civic Centre at 2pm-4:30pm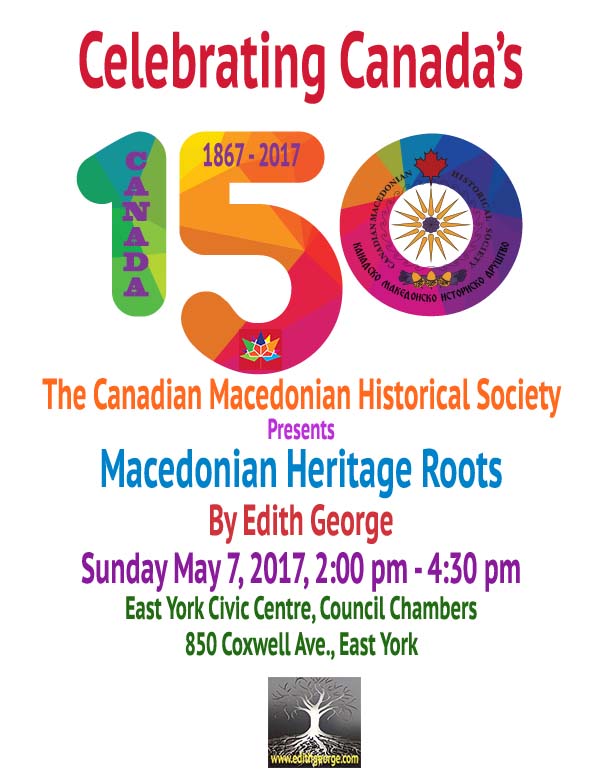 ---

Book Launch: Danny the Barber - Proud to Call Canada My Home. The life of well-known Cambridge businessman Doné Katsarov is chronicled in Danny the Barber – Proud to Call Canada My Home. A launch celebration for the self-published title, written by Shelley Byers, will be held on a date to be announced soon.



Canadian Macedonian Poetry - Celebrating Canada's 150



Macedonian Immigrant by Edward Spiro Thomas

Canada you are indeed a land and nation of immigrants
Many people heard you call and they came.
Macedonians left their beloved homeland
Your hopes and opportunities to claim.

You invited them; come Aegean, come Pirin, come Vardar
Come you resilient and strong peoples.
Leave Macedonia, as children will someday leave the home.
Come have families, build homes, build businesses, build churches with their steeples.

You counseled them, embrace me and i will embrace you.
Nothing will be given to you, nothing here is free
Macedonians are not strangers to hard times or hard work.
Things will go well here; persist; you will see.

You persuade them; give me your youth, your vigour, your muscle, your sweat.
Give me your hopes and sreams, your plans, your brain.
Establishing a foothold in this new country will be hard.
Remember immigrant, it's your children who will reap and gain.

And work they did; daytime, nighttime, fulltime, part-time, overtime.
In abattoirs, factories, odd jobs, restaurants, stores, plants and mills.
No work was too hard for a Macedonian, nor beneath them, name it they did it!
Labourers at first, they soon left that behind, these Macedonians of intelligence and will.

They rubbed shoulders with a great mixture of nationalities in Canada.
Learned the Language of the land; collectively, ethically they won themselves a place.
Their honest, God fearing, hard working character, proves them second to none.
In business, the trades, arts and academics, they bring honour to thier Macedonian race.

And when the children of Macedonian immigrants
Stand at their parents graves, as one day they must,
They know their Canadian birth right has been secured.
For their parents bones, will become part of Canadian dust.




DESTINATION, TORONTO by Patsy Sider

I close my eyes
Memories are overflowing
Like bubbles of champagne
Macedonia is my birthplace

I see the yard of my home and the vine canopies
I reach for the hanging grapes
The red and white sweet grapes are melting in my mouth
I admire the majestic mountains and the voices of the singing birds

One day my father says to us
"We will leave this place
We will go to Canada, which is a dream place"
In 1962, we depart for Canada
The four of us, my little sister, my mama and papa

From Piraeus we are aboard on a luxurious boat from Holland
It is called Homerique
Thirteen days in the ship
The eye sees only sky and sea

Our cabin is located in the lowest level of the boat
The economy class
From the window of our cabin I am able to see
The dark color, the other side of the sea

The French Cuisine
Smells heavenly
This is a different cooking
It is much tastier than the homeland cooking.

At the dinning room the waiter is dressed
In white shirt, black bow tie, white jacket
Black pants and white gloves
He is handsome, polite, kind
And he teaches us in which hand to hold the fork and the knife

This is a luxurious way of living
My background is just a tiny city
I never benn on a cruise before
This boat will take me faraway from my home

At Pier 21 in Halifax, a Representative
Of the travel Agency
Welcome us with a written sign and the destination
And our minds are ready for imagination

With few cents we purchase
A loaf of French bread
The French bread is so yummy
We cannot fulfill our tummies

An hour later we are aboard on a commercial train
It twists as a snake, for long, long hours
It leaves behind a cloud of black smoke
A beautiful panorama, of a snow-white blanket is spread
Our stomachs have desire fro French bread

In Montreal we change to another train
And we notice the freezing rain
This locomotive is clean
I am eager to see everything

From Montreal to Toronto is anoither thing
I could not see a thing
I feel exhausted and I sleep
Into a deep sleep and I sleep

The next morning with the dawn
I yawn
This is Toronto, the downtown station
And time for realization

Tall buildings, bright lights
At nights
Toronto is a special City, an exception
I have a good impression

Toronto is the city of opportunity
Toronto is the land of prosperity
Toronto is a sweet city
In Toronto I raise family
Toronto is my New World

In Toronto I have gracefully grown
Toronto sits up high
I love the First Day of July
Destination, Toronto is like a dream come true.